Reverse off the sealed road, maintaining careful control of the Palfinger crane to avoid inconvenient jack-knifing. Park between the felled logs, stripped and segmented by the now-silent Sampo Rosenlew HR46, logging head taut from its articulated boom. Clamber aboard the sufficiently-sized  trailer and drop the support jacks. Power up the claw, acclimate to the controls that differentiate clamp rotation to grip and extension. Begin to select trunks from the strewn lumber and manoeuvre them onto the bed.
Lose an entire evening.
Such is the perceived state of the simulator scene that, at least until a few years ago, excitement for something like Farming Simulator 17 would be misinterpreted as cheeky, wink-laden irony. It was thanks to Giants and the likes of Euro Truck Simulator's SCS Software that the rightly laughable cycle of German sweatshop-tier "simulators" was broken, at least to highlight we weren't all crazy for clip-prone non-events like Street Cleaning Simulator. These competent, feature-rich products made huge leaps in providing solid experiences from crucial, yet relatively unexplored industries.
Simulations of this ilk aren't new, and while we all cut teeth on terminally-niche tycoon titles, it was only recently that technology could support really doing the physical hardware justice. Farming Simulator 17, case in point. If you've any affinity for agricultural machinery, from the smallest trailers to the biggest headers, this is essential fare.
Interiors across the seventy-plus operable vehicles are true to their real-world counterparts. They all feature a serviceable amount of complexity, delightfully modeled and appropriately animated. There's also a robust physics model at play, too. Machines respond in sympathy to suspension, tires independent and adjusting to the terrain and vehicle weight.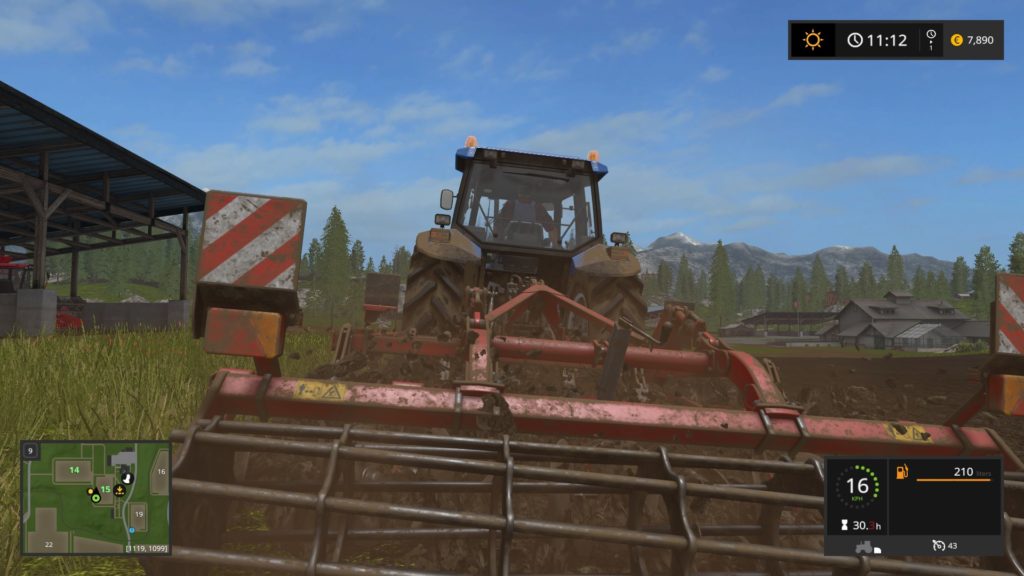 It's not SpinTires-level interaction, and dare I imagine extreme mudding between the lumber yard and collecting eggs, but there's enough visual impact between player and place to sell the rural relationship. Tractors come away from a day in the field caked in mud. Haulers track lines of dirt across sealed road and poured concrete, increasing the filth with every rotation. There's always waste management if muck is a sole indication of hard work, but the visual indication of a hard day's effort is satisfying nonetheless.
Plots require adequate preparation, crops and livestock require adequate care. In a carefully-managed crawl, a player might spend the first few seasons merely vacillating between his or her (yeah, male and female farmer models available) starter plots. Difficulty dictates just how complicated the horticultural cycle will be, with lower levels not scarifying crops or starting amid trying economic circumstances. Higher difficulty simulates the modern agricultural experience, with heavy debt and a soft commodities market paying so little for non-factory farming that you'd swear Murray Goulburn were credited.
So begins the palsying choice of life on the range. From animal husbandry to logging and the conventions of crop care, it's a series that requires you to have at least some initial self-determined goals. The free-form nature of Farming Simulator is its driving appeal, but also the biggest hump for a newbie. Figuring out what tools you'll need for an ever-diversifying range of projects could be paralysing. Thankfully, tutorials are straightforward and helpful, without insipid smothering or being too far into the weeds. Not to mention, information points dot the landscape, explaining further gameplay elements at a player's convenience and speed.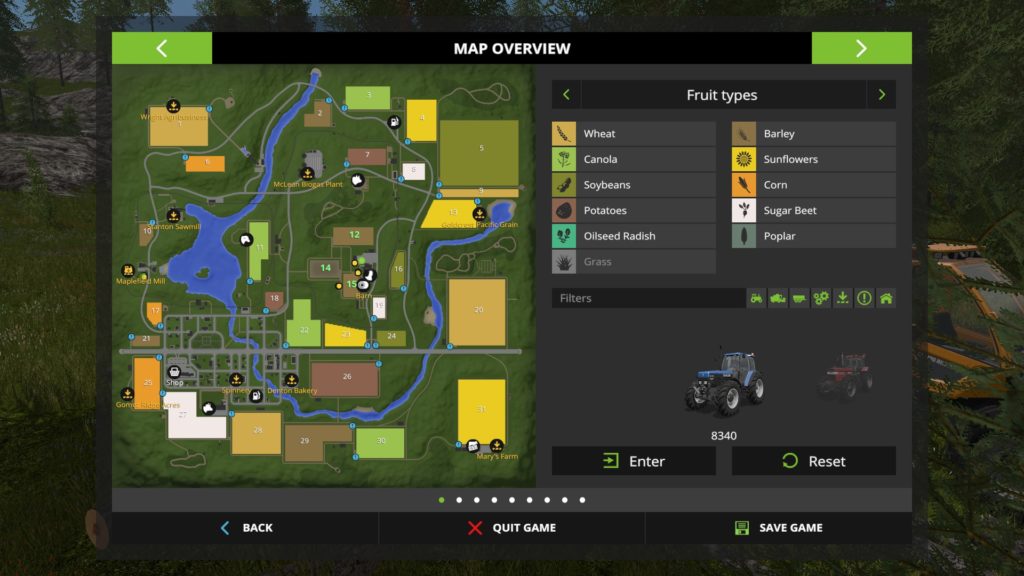 Once you've become accustomed to the basic conventions of crops and livestock, you can increase your output by expanding the motor pool with additional hardware. Machinery can be rented from the local agricultural supplier, which does ease the fiscal burden in the early stages of setting out. Nobody wants to fork out for a goliath Krupp-style beet harvester when they're still planting turnips by hand. The market pricing index and crop states are rendered in an easily-parsed layout to help assess current and projected outcomes. For all the time spent in the cab of some diesel-sucking brute, players will find themselves staring just as much at these crucial menus. As was the case in past outings, the moment I was a tad solvent, automated hired help let me get on with balancing the books while Heinz and Gertie got on with the ploughing. There's a Joe's Apartment nod in there somewhere.
Farming Simulator 17 is a bigger game than any that have come before it. In genre terms, it really is the Euro Truck Simulator 2 moment for Giants Software's series. It might not be as wistful as driving to Warsaw under a blanket of drizzle, but the rural role-play offers a different kind of contemplation. Enjoying the feedback of manipulating that trailer claw to load lumber. Projecting for crop rotation. Leasing equipment to mitigate costs. Switching on the tractor halogens as dusk descends on fields just shy of a day's work done. Delivering your produce and seeing the coffers swell.
Or confirming your abysmal attempt at life on the land by a Steinbeckian farmland fire-sale, clambering out of penury, tractor by tractor.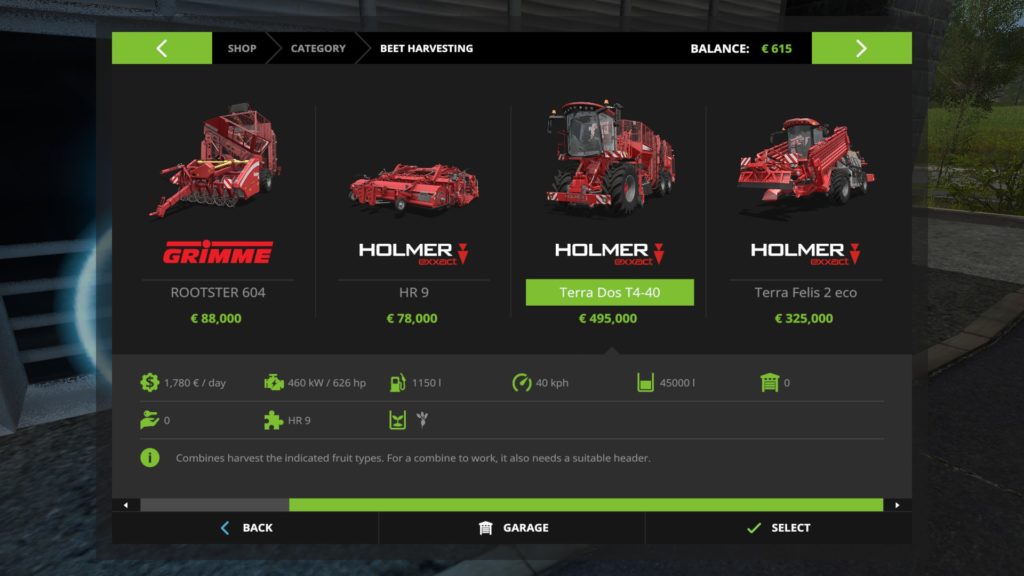 It would be dishonest to trot out the usual 'not for everyone' line in regards to Farming Simulator 17. If anything, it's the best time to jump in – both intrigued newbie and grizzled pastoralist alike. A rich and rewarding slow-burn of rural management that looks great and plays well.
Head for these hills.
Hey, it's our first review and, my god, there are no stars! That's how it's supposed to be, as we weren't sure a star-based review is what we wanted to do here at Stately Play. Want stars? A different form of summarization? Let us know in the comments.