Tabletop •
Seven-plus years ago, I would have been glued to news of the Spiel des Jahres–the Oscars of gaming–researching each game, buying them if available in the US, voting in polls about which games deserved to win and more. Yes, I was one of those people that, today, I can't stand. Still, in its heyday the list of SdJ winners contained a bevy of fantastic games: Scotland Yard, El Grande, Carcassonne, Codenames, Hanabi, and Dominion just to name a few. Today, I keep an eye on the SdJ, but most of the nominated games are simple, family-style games that just don't excite me anymore. That was definitely the case with this year's winner, Kingdomino, until I got a chance to actually get it on the table at Gen Con. It's not going to knock Through the Ages or Twilight Struggle out of my top ten, but as a quick and light filler, Kingdomino hits the spot.
Kingdomino is a rather clumsy portmanteau, similar to Carlifer (+500 points if you get that reference), but we'll focus on the domino part, because that's the game. Yes, it's basically fantasy dominoes with a few tweaks for scoring points. Games last for about 15 minutes and I dare you to not ask to immediately play it again once your first go-through is over.
Each domino is comprised of two squares, each depicting a certain terrain type with some squares having crowns printed on them. Your goal is to build a 5×5 square matching terrain types and at the end of the game you multiply the number of contiguous squares of each terrain with how many crowns are printed on that terrain. It's so easy my 7 year-old can play it, and yet the decisions are deeper than what you'd expect at first glance.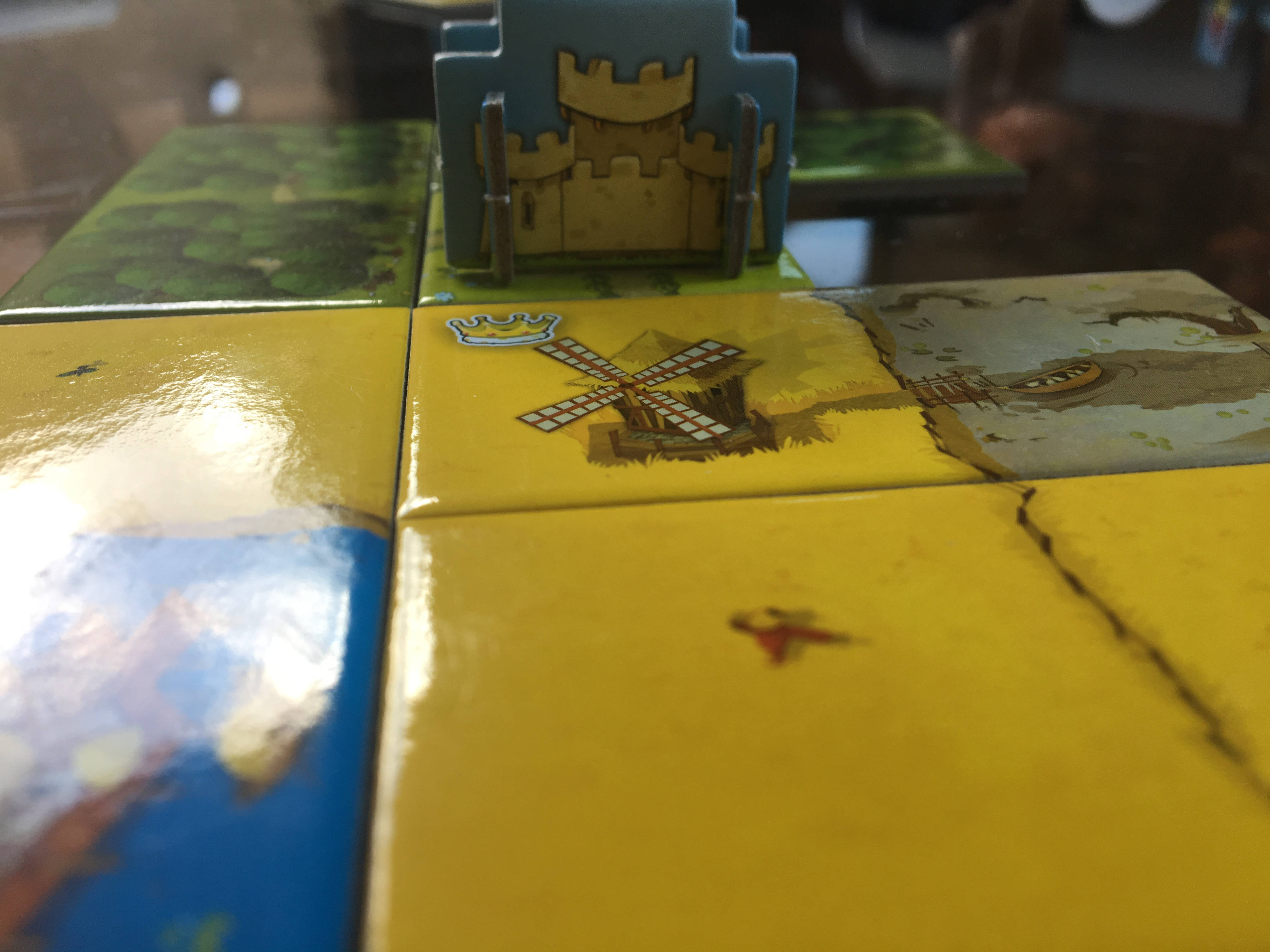 Each round, players place a domino they chose last round, and then must choose another. The player on the lowest numbered domino gets to go first the next round, so each turn you're struggling with wanting to go first so you get dibs on the new tiles coming up, but also wanting something that fits into your kingdom. There's also rage drafting, where you choose a tile that would really help one of your opponents. This happens far more than you'd expect in such a short, apparently friendly game.
Kingdomino is a rather brilliant little puzzle, and a game that I'll drag to game night so we have something to play while we wait for the slackers. It's also perfect for playing with the family. My kids love it, and even my wife managed to sit through several games before remembering that she hates games. It's great for puzzle lovers, who will just want to build the perfect 5×5 grid, and for euro fans who are looking for a light snack before diving into the main course. I really want to be an SdJ skeptic but, dammit, turns out they picked the right game again this year.