PC/Mac •
Forget Fat Leonard for a moment. Here's some bigger nautical news. Killerfish Games, the fellows behind the rather well-received Atlantic Fleet, are closing in with their next naval effort, Cold Waters.
Rehsink rehbbits yin Reyjavik? Not if you can help it.
Announced last year and recently bobbing up on Steam after a tidy Greenlight process, Cold Waters is set to surface sometime mid-2017 on PC and Mac. Said to be the spiritual sequel to Microprose's Red Storm Rising, players will set out to savage a Soviet invasion fleet steaming for Iceland. Detailed submarine warfare is the name of the game, with all manner of cat-and-mouse combat and surveillance at the player's disposal.
After tracking a Soviet landing force bound for Iceland it is time to plan your attack. Do you silently close in to torpedo the landing ships and escape during the resulting chaos? Or strike with long-range missiles but risk counterattack from the enemy escorts? Have you detected them all, could another submarine be out there listening for you? Has the hunter become the hunted? Will you survive the Cold Waters?

Inspired by the 1988 classic "Red Storm Rising", command a nuclear submarine in a desperate attempt to prevent "mutually assured destruction" when the Cold War gets hot and WWIII begins.

You will be tasked with intercepting convoys, amphibious landings, insertion missions and battling it out with enemy warships, submarines and aircraft. Thankfully, an arsenal of wire-guided torpedoes, anti-ship and cruise missiles and the occasional SEAL team are on board to keep the Iron Curtain at bay.

Major Features:
– Real-time naval combat
– Over 40 classes of ships and submarines all meticulously researched
– Dynamic Campaign where your performance matters
– Realistic sonar model
– Authentic Soviet combat tactics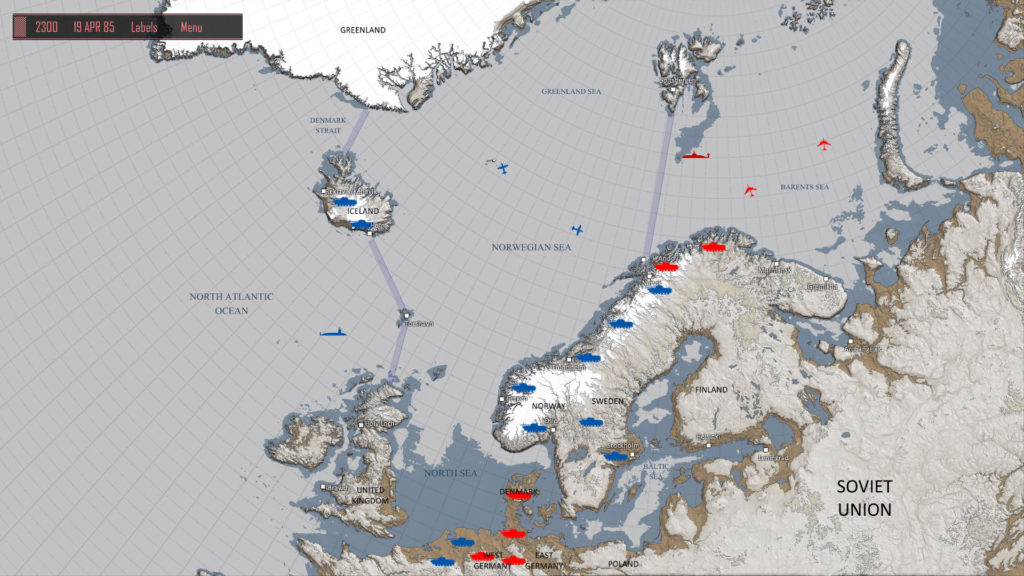 Atlantic Fleet was a
terrific gem
wherever you played it — the beige box or the black tablet — and Cold Waters appears to ply a similar level of quality. The developer chatter on Steam forums seems promising, their mission dedicated to keeping the pace brisk and tense as you steal through the North Sea to pop the keels of the Red Fleet, or zigzag through an array of Soviet anti-submarine sweeps. Whatever the outcome, my boat is already floated.
We'll keep chasing the bubble until Cold Water breaches.