PC •
As the axe fell on the RTS after the turn of the century, and we all realised that the late Nineties RTS arms race had an unfavourable signal-to-noise ratio (sideward glance to this current battle royale malarkey), a name rang out in the wilderness. Spieleentwicklungskombinat. But if a dinosaur roars and nobody hears it, is it really there? Behold, the enigmatic ParaWorld.
ParaWorld lumbered into release in 2006, to a relatively warm reception. It wasnt changing up the economy-based RTS formula, sitting along the likes of Liquid Entertainment's Battle Realms in adding their own twists and flavours to what Westwood and Ensemble codified years prior. What made ParaWorld special was its theme. Big old prehistoric factions in prehistoric landscapes, astride beasts stretching from the Mesozoic to the Pleistocene. If you were — and hopefully remain — a megafauna fan, it was a vintage year just for this persuasion.
The game still holds up in that quaint, awkward polygon RTS way. Limited zoom, absence of camera niceties, conservative unit count and pathing issues aside, the game has a heart that seemingly isn't very well served a decade on. It's a potentially cloying proposition, but I miss this kind of outlandish premise. Gigantic clashes of triceratops-mounted ballistas, battle mammoths, Allosaurs and Brachiosaurs. Spiked fortifications, herbivores grazing on the plains, the gentle tap-tap of stone axes felling trees. Heck, even the slightly unsightly haze that keep the primordial tech from blowing its draw distance gives off a comfortable Lost World vibe.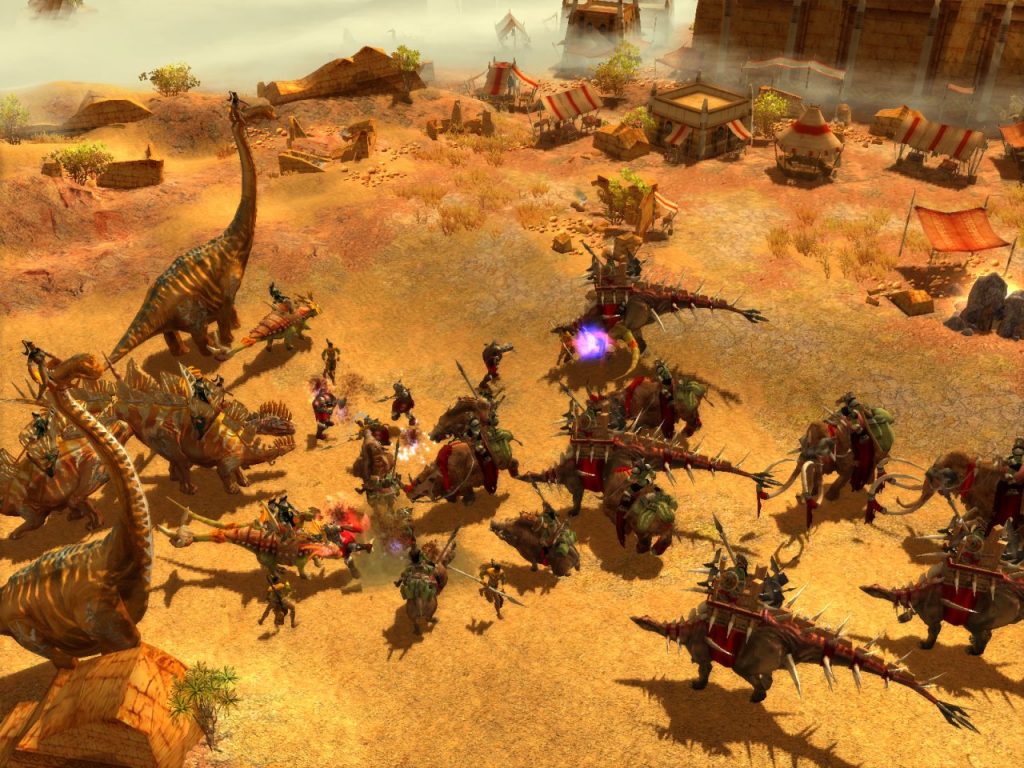 These old games might have made a small comeback in concept — the Empires Apart of recent release — but with the tech these days, I wish Spieleentwicklungskombinat had kept its powder dry for a decade further. Just thinking of the scrumptious assets modern systems could support, the level of detail and visual flair that is now reserved seemingly solely for Moba rosters gives one a half-mongrel and a case of the weeps, respectively.
The worst part? After languishing on Gamersgate for years, it was de-listed after the IP was scooped up by Ubisoft. Fingers crossed for some enterprising Frenchman to figure Jurassic World and ParaWorld a tight mindshare fit, but held breath in this regard could be extremely fatal. Best bet is to snag a physical copy or sail the Tortugan seas.
Another mark against the name of digital releases, because much like the beasts of ParaWorld, we see grandeur become mere shadow against the endless march of time. And business.