It's been a long, news-less week behind the scenes at Stately Play. Too much stuff to do and too little time to do it. So, I missed the launch of Banner Saga 3 and…well, that's the biggest news bit you didn't get from our front page. Next week is looking tough as well. I'll be on vacation Monday and Tuesday and then heading down to Gen Con where I'll be getting all sorts of news (I already have an interesting tidbit from CGE that I will share as soon as I'm legally able to). Will I be posting it right away? Hopefully. My plan is to write up what I saw each day and post it the next day, so you'll get Thursday's news on Friday and Friday-Sunday's news early the next week. That's the plan, at least, but you know how those go around here. If you don't, please see my Liberty or Death or Darkest Night videos for an example.
Onward to the weekend!
Captain Toad: Treasure Tracker and Enter the Gungeon
After two jam-packed weekends of filming, driving, and sleep-deprivation, I finally have some time to play some games.
I've been puzzling my way through the recent Switch port of Captain Toad: Treasure Tracker on my lunch breaks at work. It's incredibly charming! I just unlocked the new set of bonus levels based on Super Mario Odyssey, and I'm excited to see what surprises those levels are hiding.
Enter the Gungeon is the other game I've been dipping into when I have the time. I originally purchased it on PS4 when it released a couple years ago, but bounced off of it pretty quickly. While I enjoyed the moment-to-moment arcade roguelite gameplay, I had some issues with the way progression was balanced. Long story short: the developers just released a massive free update that addressed my issues, the Switch version was discounted to celebrate, and I was going to be in the backseat of a Volkswagen Beetle for roughly half of last weekend. I still haven't gotten over how well-suited the Switch is for these run-based indie games. I'm at the point where I'm actively avoiding purchasing games even if a Switch version hasn't been announced, just in case. Also, where the fuck is Into the Breach?????
-Tanner Hendrickson
Dream Quest
Well, I've re-installed Dream Quest on my iPad, Jasra help me.
-Tof Eklund
Outcast: Second Contact (and more)
Hello there, Statelies.
Well, here we are, with a rejuvenated No Man's Sky in our hands and many marvelous biomes to explore. Which is why I'm heading back into the world of Outcast! Yes, the most PC of PC…adventure games? RPGs? Klaazka? Vernahoo? Ignat?
Outcast got a delicious redux last year under the suffix Second Contact, and while some parts haven't aged particularly well in the intervening years, 1999's most intriguing science-fiction romp continues to have great dollops of lustre. It retains a very compelling alien world with relatively alien-aliens, and our hero Cutter Slade — born to heroism — enjoys his offbrand Stargate adventure as much as I do. Puttering around in the NEXT update for No Man's Sky is good fun, but it sewed prodigal seeds in the Riss paddies, in the shadow of the Gemehar. And the Talan seemingly can't save themselves.
Battlezone 2: Combat Commander is currently the cost of a slightly extravagant muffin on Steam, but to really whet that whistle the entire multiplayer side of the game is free to play. So, get on it. Rebellion did a bang-up job on this loving renovation of a true classic, and the multiplayer is crying out for willing anti-grav pilots to bounce around the landscape and build things. And kill things. And command things.
Finally, I've been playing The Council, a French take the on the Telltale model. This is an odd one to recommend, because it comes laden with caveats. But, if you can bypass things like the main character — a Frenchman — being voice-acted by an American, and relatively weakly at that, you just might have a wild old time. It's set in the late 1700s, and a secret society meets on an island off Tintagel. Big names, big plans, whispers and murder most foul. Three of a planned five episodes have been released, and I'm currently sleuthing my way through the second this weekend. Technical shortcomings and the aforementioned voice acting aside (if you must have an American, get Rolf Saxon!), I'm rather taken with it.
Have a fine weekend!
-Alex Connolly
18xx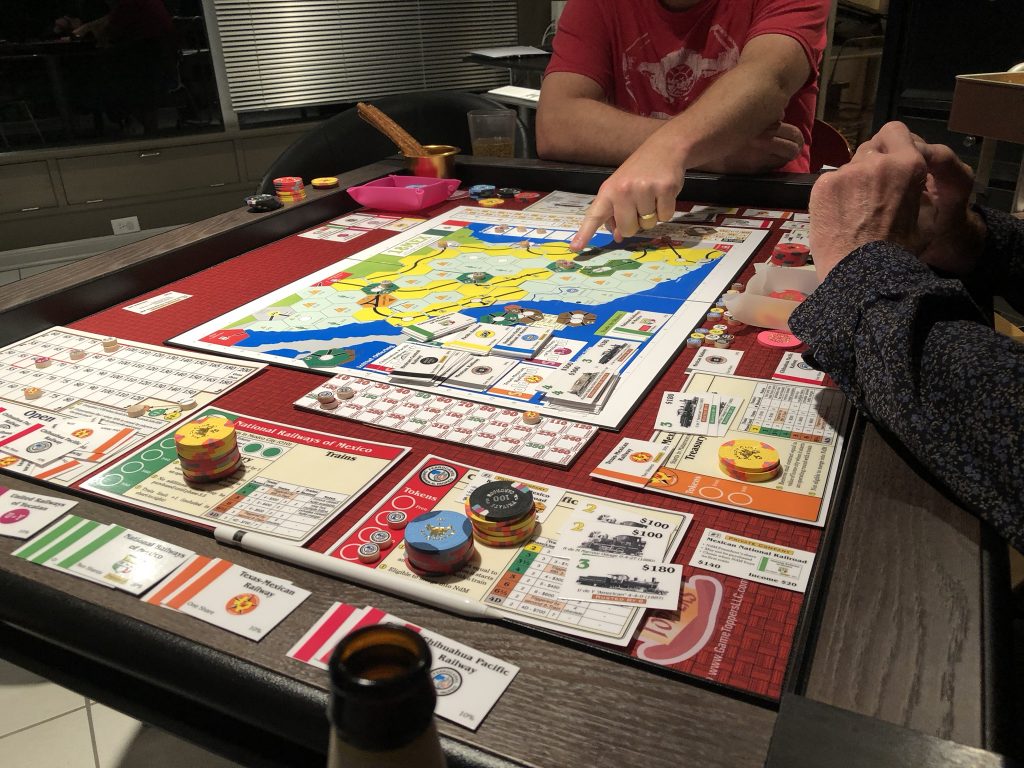 Today is my wife's birthday and we're leaving for vacation on Monday morning, so I don't plan on getting a lot of gaming in this weekend. Luckily, I did manage to sneak in a rare mid-week game session on Wednesday where my group and I played, what else, an 18xx game. This week it was 18Mex, one of the shorter ones with an interesting National Rail mechanism that kicks in mid-way through the game and can really shake things up.
Someday I'll write about 18xx as it seems to be the only style of game I've been playing lately. If you're into heavy economic sims, I can't recommend them enough. Just go in knowing you're going to get slaughtered if your opponents have any experience whatsoever. In other news, I do expect the new edition of Brass to arrive very soon, I'm hoping it comes in the next day or two. I'd love to bring it along to Gen Con and teach it to my kids (who, along with my wife, are all coming along to Gen Con…it's going to be a weird year).
-Dave Neumann