Well, it's Sunday again, or perhaps Monday, or it could even be the 1st of Octember. That means it's time for another installment of the ghoulish Chronicle of the Lightbearer. When last we left our protagonistic abomination, they had just died, but death is no escape – bear that in mind, there will be a quiz later. TW for body horror, as usual.
Chronicle of the Lightbearer: The Nth Light
Those who dwell upon the skin of the world recognize only a single light: the glare of their harsh sun. They know other lights, those of burning wood and tallow and some of the magical radiences, but they think them all the same, all "light." I have felt the seventeen common lights of the deep upon my skin, and three of the secret radiences. Dapples of each erupt upon my skin, like bruises or pox, glowing dimly before fading again. So it has been since my childhood.
After dying, the first thing I noticed was a new light making its home in me. My eyes snapped open, drinking in this new radiation. I felt its dispassionate curiosity, understood that I had, somehow, attracted its attention, and that it had snatched me from the brink of dissolution in order to examine me, like a child plucking a slug off a corpse and turning it over to see its slimy mouth.<1>
The ennervation I had felt earlier was gone, and I thought I might bifurcate and become two again from the vital energies of change flooding me.<2> A subtle shift in the light: it was done examining me but was still curious enough to offer me a boon: safety, rest, these things meant nothing to me. Vengeance… yes… I reached for that and fell through the light to the moment of my death.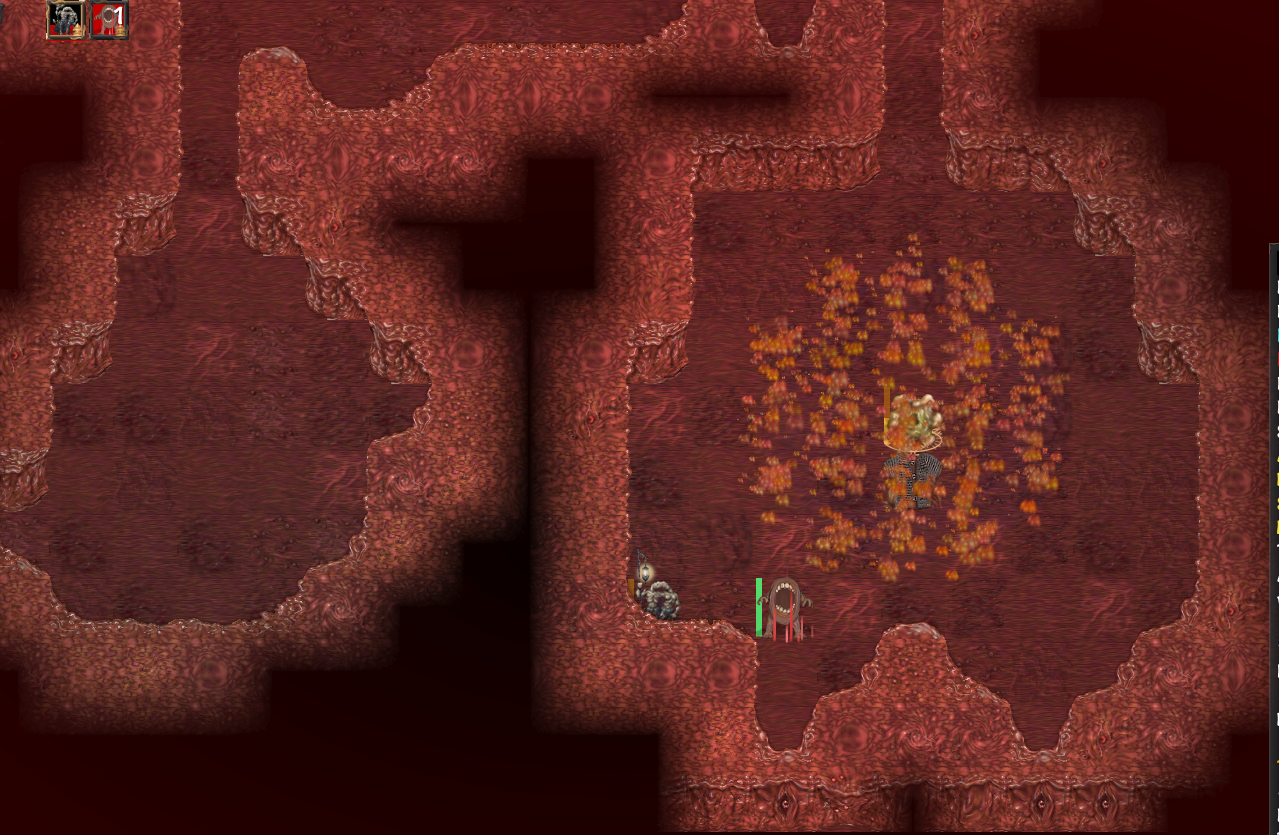 The spongy, blood-filled intestinal walls of the worm surrounded me once again. Brain-dead and doomed, but still flushed with blind, idiot life. The spiralling mass of tendrils was in front of me again and it stuck with preternatural speed. This time I was ready. I sloughed off a layer of skin and flesh, let it strike my old skin, and twisted past to strike hard, searing off the largest of its fronds. It lashed back, shredding my defensive layer of cutaneous flesh but doing me no harm. Seeing an opening, I lashed it with my tongue. It began to curl in on the spreading rot and soon it was over. Poking through the flesh sack it had emerged from, I found a few fragments of mostly-dissolved bone, gemstones, and a couple of magically-protected. I took what was salvageable and began the series of occult invocations that would return me to Kroshkur.
The ritual tore me apart and I beheld the emptiness within. The void gazed also into me, its eyeless sight altering all it beheld. I came back together in heavings, thown up out of pure absence into the comforting lights of home. But little comfort awaited, as That Which Defends stood waiting for me, all its eyestalks fixed upon me and the sigils carved into it's chitin thrumming with awful resonance.
You are sufficient. It said. You will go to the surface and learn their ways. You will serve human ends, for a time, and come to the understanding that your ignorance allows. This is the will of the Elders.
I nodded my acquiescence, and said nothing of my near-death or the "Eidolon" that had given me back to the world. Trust is silence, as the saying goes.
Eyestalks weaving in consideration, That Which Defends took my greatsword from me. I did not so much as think to object. Do not fight like some human berserker, it said. Always keep your sinister arm free to snare and strike unexpected. Let them think they only need fear your dexter steel. It paused. That razor you found was a tool of Kor'Pul the necromancer. Necromancy's desperate clinging to sameness suits you as poorly as the subtlety of that knife suits your full sinews, but it will do until you find better.
Next: Upon the Skin of the World!
1. Tales of Maj'Eyal has three game modes: "roguelike," where death is permanent (there are a few in-game ways to gain a second chance), "adventure," where one earns additional lives periodically as one levels up, and "exploration," with unlimited lives. I am playing in "adventure" mode, so while the Lightbearer will eventually meet true death, that day is not today. Good thing, or this would be a very short series.
2. A little creative license here: many of the Writing One's abilities are powered by Chaos, which is increased by other abilities and depletes over time. When I faced the elite monster that killed me, I failed to account for the fact that my Chaos was 0%. I built up my Chaos in the fight, but not in time to prevent my death. Restored by the "Eidolon" to full health while keeping my Chaos, I was ready to kick butt.