iPad, Android tablets, PC/Mac/Linux •
Last Thursday I stopped by Steam several times to see if Handelabra's port of One Deck Dungeon was live. One of these trips — for no good reason — I scrolled down to read current Steam reviews. Negative reviews weren't hard to spot, all complaining that this game uses too much "RNG" which is, apparently, a cool thing all the kids are saying. It means random number generation and if you're complaining about randomness in a game that has you chucking literal handfuls of dice each turn then maybe you're playing the wrong game. One Deck Dungeon is nothing but randomly generated numbers and, if you're into that kind of game –other ports I can think of are Elder Sign and Roll for It! — then you're in for a treat.
I've already reviewed the cardboard version of One Deck Dungeon from Asmadi Games and concluded that it was a great solo game that's easy to shove into a backpack and take with you. Handelabra's version is even easier to pack, especially if you're already dragging along your laptop or tablet. The gameplay is the same: pick one or two heroes and a boss dungeon, start flipping cards and rolling dice and see how long it takes for your characters to die [we have heard rumors of characters not dying, but find such tales hard to believe -ed.].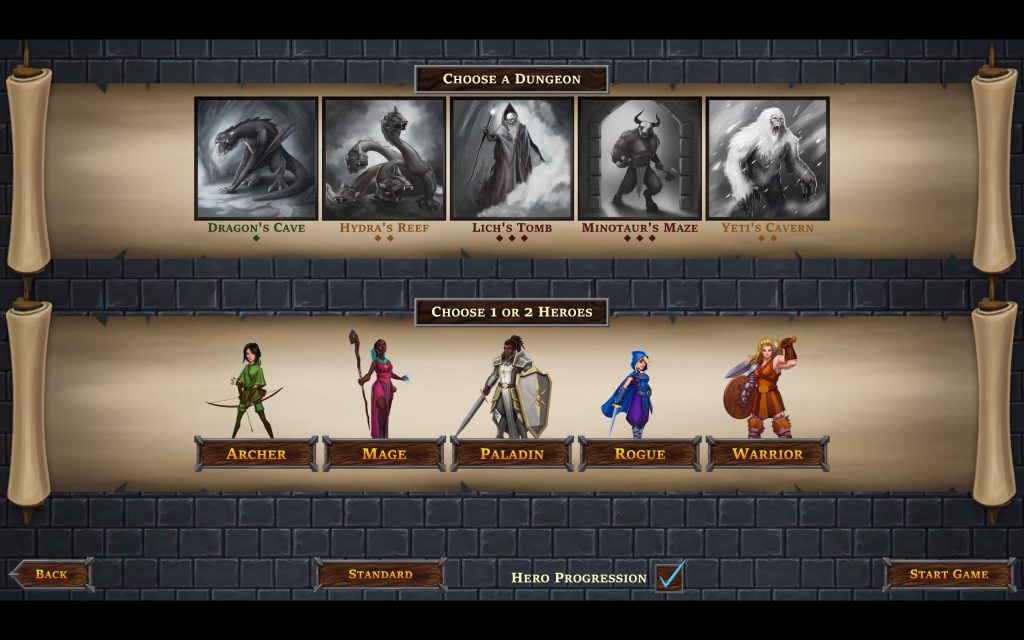 Monsters, traps, puzzles, obstacles and other dungeon tropes are all abstracted into different colors of dice, each representing one of your character's attributes. Red dice are agility, yellow are strength, and blue are magic. Mages, then, would begin their journey rolling more blue dice than yellow, whereas a rogue is heavy on red dice. You might find a locked door that you can choose to back open (using your yellow dice) or pick the lock (using red). It's not very difficult to grok, so I'm assuming you all get the idea.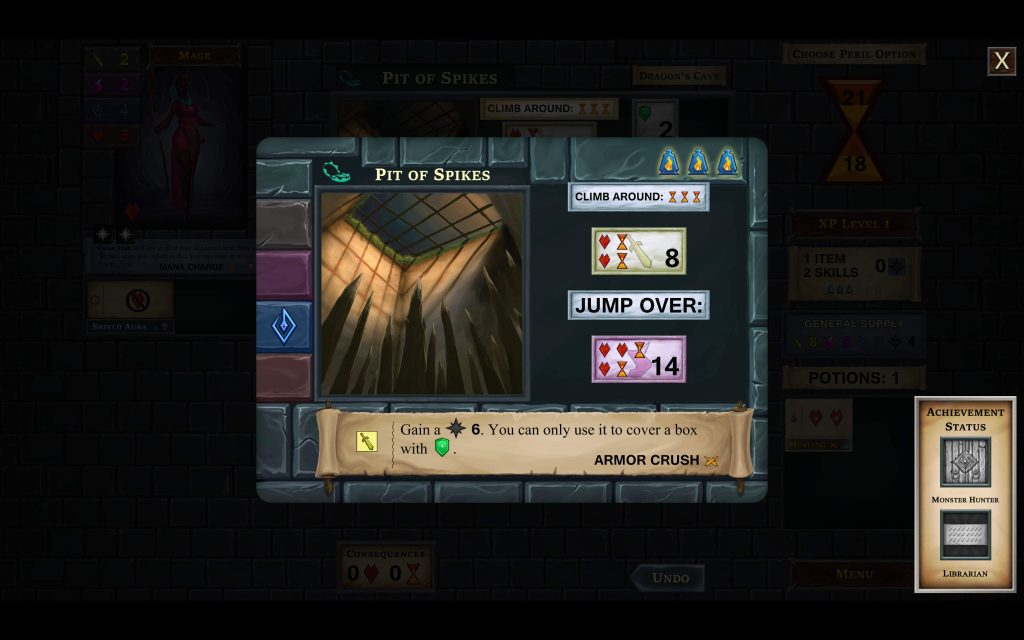 The fun of One Deck Dungeon is building up your character with different items, skills, potions, or adding levels and seeing if you built the perfect killing machine to make it to the boss monster on level 4 of the dungeon. Kill the boss, you win. Anything but, you lost.
The main mechanism is chucking all the dice from your character's dice pool and assigning them to the colored squares on the challenge you're currently facing. If you cannot cover up all the boxes, then you'll lose either time or hit points, bringing you closer to the boss or death, respectively. Actually, the boss will probably kill you, too, so both penalties are simply bringing you closer to death.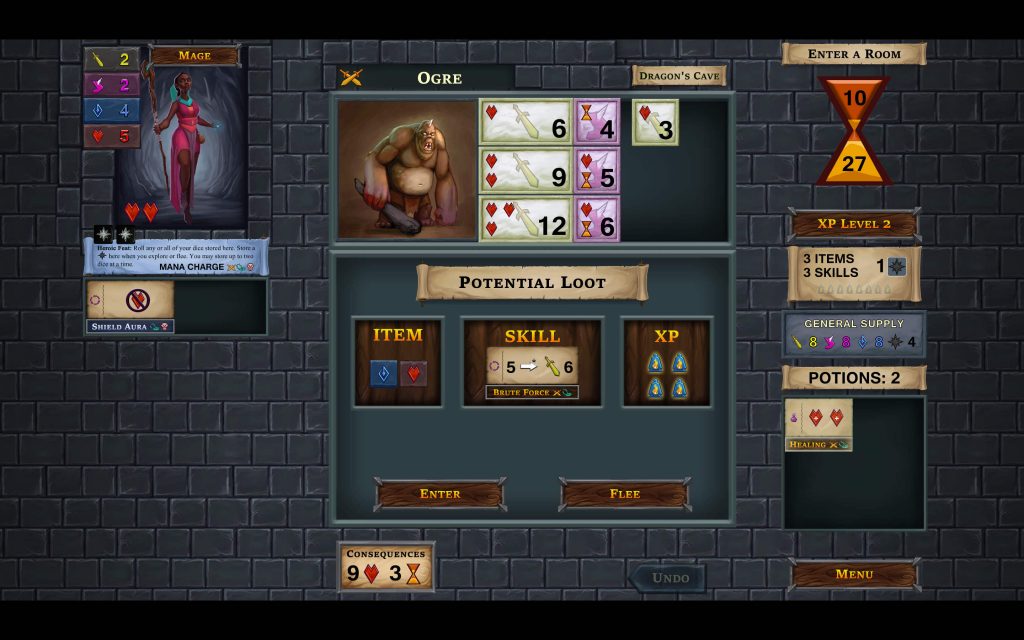 Determining how to fill the boxes on each card is what turns this from Fantasy Yahtzhee into something that will have you using your noodle. A bit. It ain't 18xx, but I'd hope you know that going in. Still, despite its love of dice, there's a lot to ponder each turn. Items you find in the dungeon let you add either yellow, red, or blue dice to your pool, but the skills let you spend dice to do other stuff. Spend one yellow dice to add +1 to up to 4 different dice or spend a red dice to roll 2 yellow dice. It's the kind of thing where you'll start saying to yourself, "now, if I spend that there and roll this, then I can cover that, but I won't have that red dice to cover that, so maybe I spend this dice…" If that kind of thing isn't your bag, then stay far away from One Deck Dungeon.
As we've come to expect from Handelabra, the digital version is flawless. I have yet to see a bug and, while it plays just fine on my laptop, it really shines on a tablet. I've been playing this on trains and planes and buses for the past week or so and it's a perfect fit for mobile.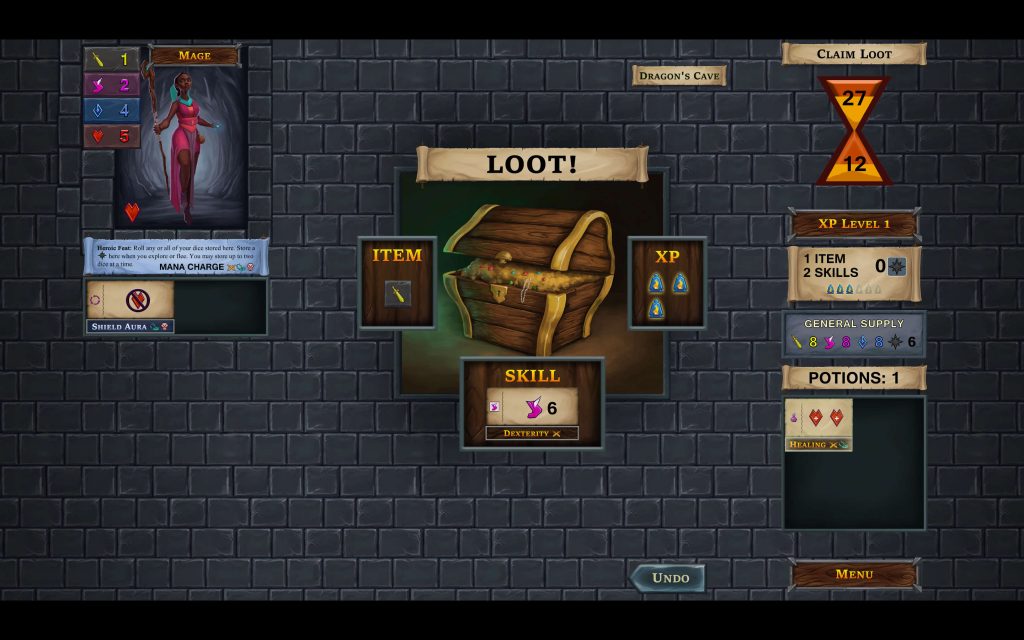 The app is polished with subtle animations when you open doors that are much, much better than just flipping a card, but none of the animations or sound effects get in the way or slow gameplay down. If you're just an old curmudgeon, you can speed them up to the point where they happen so quick you can't even notice them. Don't do that.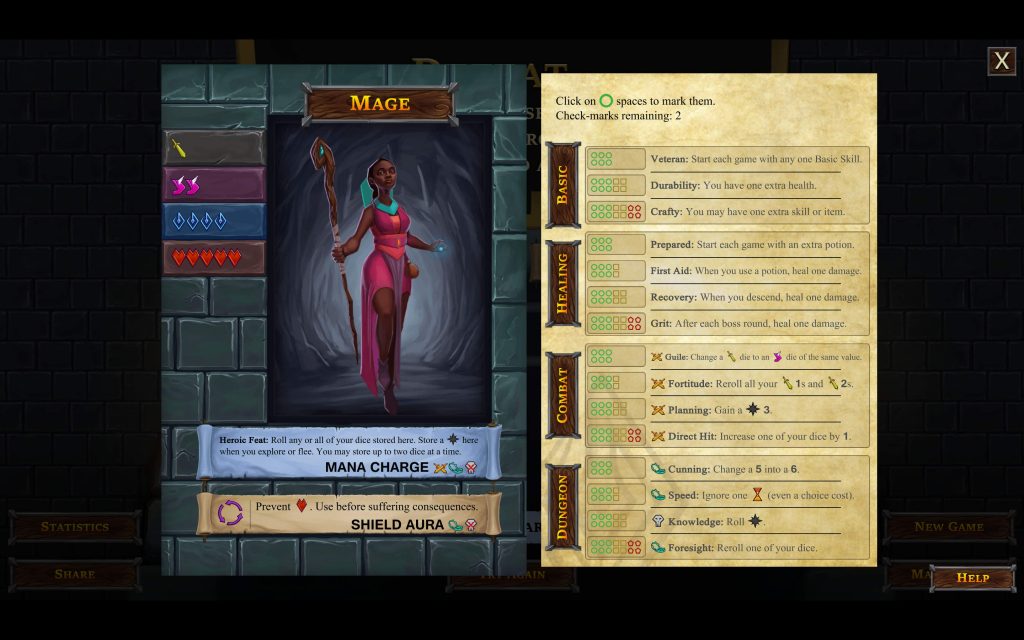 The app also has a Hero Progression mode which is a neat way to take a character along on several dungeon crawls and build them up with special abilities as they advance. Even if you die on the first floor you'll get a couple points to spend. There are a ton of options and cool things to unlock with each Hero, and I'm really looking forward to seeing what powers I can unlock with my mage.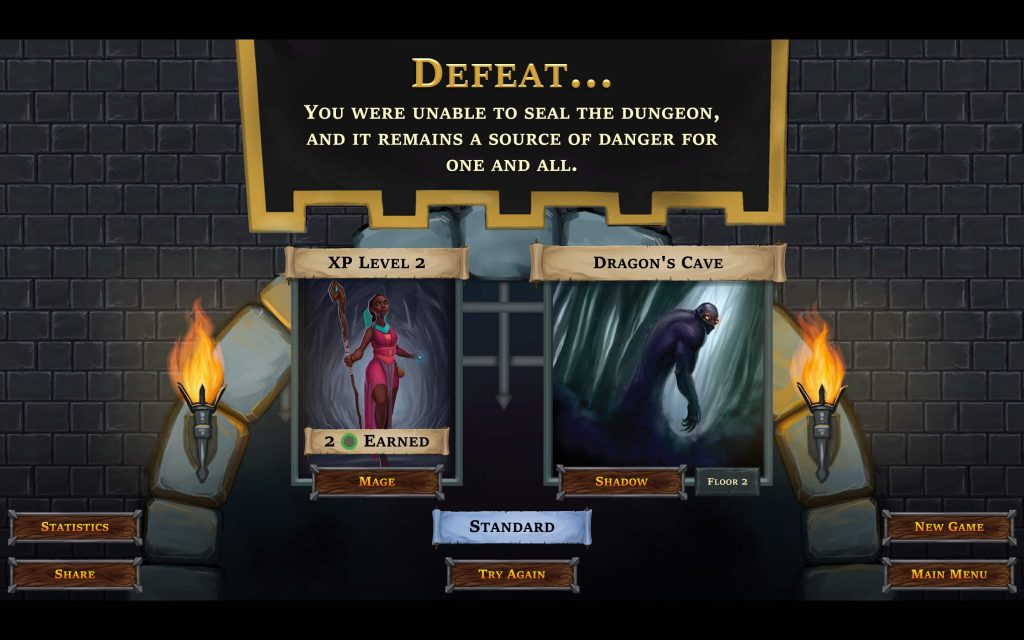 As far as board game ports go, One Deck Dungeon is one of the lightest out there. If you're looking for another Through the Ages, Terra Mystica, or Twilight Struggle, you're looking in the wrong place. One Deck Dungeon is a quick filler game that you can play through in a few minutes while still making a ton of choices and decisions along the way. Yes, your game can end due to one bad dice roll. If that bugs you, don't buy this game and, for the love of god, don't write a review for it on Steam.
One Deck Dungeon for iPad, $10 (coming May 23)
One Deck Dungeon for Android tablets, $10 (coming May 23)