iOS, PC/Mac •
The Commands & Colors series already has its share of digital versions available on Steam or the App Store. Memoir '44 was pushed out as a free-to-play PC game well before Days of Wonder clambered under Asmodee's umbrella, Fantasy Flight published a take on BattleLore for tablets only a couple years ago, and, last year, HexWar launched the World War I title, The Great War, on both Steam and iPad. That's all well and good, but we've been told for eons that GMT Games was bringing the ultra-blocky Commands & Colors: Ancients to the digital realm and, thus far, have nothing to show for it. This month's GMT Update changes that, giving us our first look at HexWar's take on the venerable C&C entry.
Yes, I said HexWar. They are publishing the digital version of C&C: Ancients and Napoleonics with the programming being done by The Lordz Games Studio, makers of gems like Panzer Corps and Warhammer 40,000: Armageddon.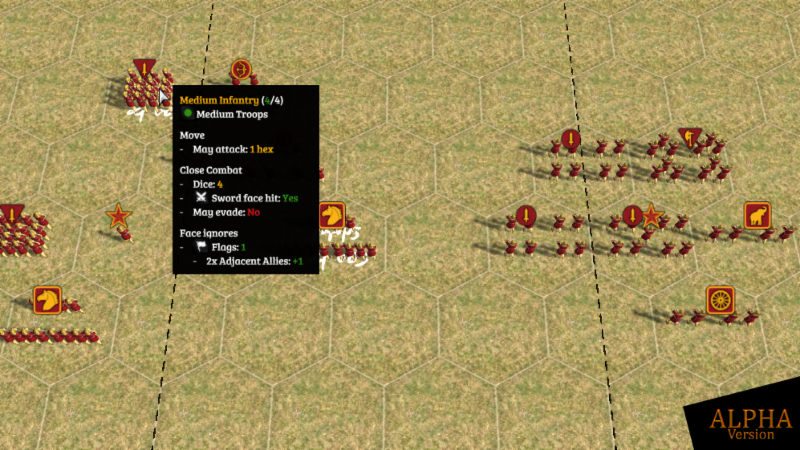 Along with the alpha screenshots, HexWar added a bit of commentary which I'm going to cut/paste below because I'm lazy as all hell today. [just today? -ed.]
Early challenges for Commands & Colors: Ancients included creating the right "feel" for close combat, laying out the units clearly, and communicating the various game actions correctly. This Commands & Colors game features a simple card set, but more in depth set of rules for close combat. Rules like "leader escape" and "battle back" are now implemented. The game has really started to develop the feel of playing the board game.

We took on player feedback and made information like unit stats and behaviours easily accessible in mouseover tooltips that update based on the situation. Communicating such vital information in a clear way makes gameplay smooth and easy to pick up – you will spend less time reading the manual, and more time playing the game! It also makes development easier, as we can see at a glance that combat is getting resolved according to the board game rules.

Just recently we implemented elephants and the special "elephant rampage" rules. Once the artwork is slotted into place this unit should really bring the Punic Wars to life.
No details on when we might expect Commands & Colors: Ancients or Napoleonics to appear on the App Store, but the fact that we're starting to get a glimpse behind the curtain is a good sign.