iOS, Android, Steam •
Thanks to Gen Con, we already knew Asmodee Digital had a ridiculous amount of new games slated for later this year and 2018. This week is Essen, however, and it seems they still have some tricks up their sleeve. Yesterday they released a teaser trailer for Scythe that failed to show any gameplay but did manage to remind us it's coming. They also mentioned some new Catan vehicles which we'll talk about when they get closer to launch. Today, however, we learned that apart from all the new releases coming down the pike, they still had at least two they were holding back. That would be Arcane Wonders' abstract Onitama and Steve Jackson's ubiquitous Munchkin.
I managed to play Onitama a while back and, while I generally don't appreciate abstacts, I found this one to be fairly spectacular. The game takes place on a small 5×5 grid with each player controlling four pawns and one Master. The goal is simple: capture your opponent's Master or get your Master to the other side of the board. The trick is that pieces can only be moved according to cards you have in your hand, and when you play a card you place it face up next to the board so it becomes available for your opponent to then use. This forces you to always be thinking not just of how you can manipulate your pieces, but are you handing your opponent the axe with which they'll chop off your head? It's great fun, and games are very short, which will make it perfect for online play which, this being Asmodee, we can assume with be real time.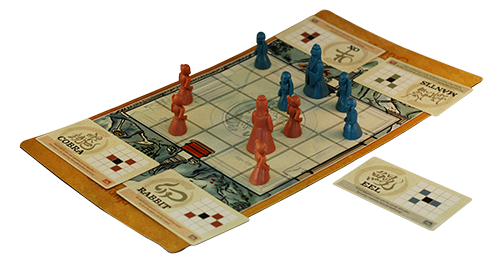 The other game is Munchkin which, if you haven't played, is a ha-ha funny card game that pokes fun of RPGs and can last way longer than it should. I really shouldn't criticize too much, I've only played the game once, but I definitely haven't felt the need to give it a second go. That said, it's one of those games that, literally, millions of people play and love, so maybe it's just me. We don't have a lot of information at this point other than it's coming to digital (both mobile and Steam are hinted at in the press release) and it won't be here until 2018.
Essen runs all the way through the weekend, so we'll let you know on Monday if there are any other big digital announcements from Asmodee or other publishers during the convention. Until then, take a look at that Scythe trailer, just don't go looking for anything substantial.