iOS/Android (coming in 2019), PC/Mac/Linux (available now) •
Artifact, if you're not aware, is the latest digital CCG to hit the market, this time from streaming bigwig, Valve. While playing Civ VI on my laptop, I was inundated with ads for the game [there was one, and it was only when he logged in -ed.] and, [being a simpleton -ed.] couldn't resist. After playing through the two tutorial matches I can only say one thing for certain: I'm not a huge fan of CCGs.
That's not saying anything bad about Artifact. As I mentioned, I played the two tutorial games vs. AI and that was it. What convinced me that the game wasn't for me was what happened after those tutorial games. That's when you're dumped at the standard CCG menu of playing against others via ranked or casual games or a Hearthstone-like Arena mode called Call of Arms in which you get a random deck and then see how many matches you can last before losing. That's when I lost interest and went back to Civ VI. What's wrong with me? I don't know, but the CCG model of 1v1 PvP matches, deck-building, unlocking cards, buying cards, etc. just isn't doing it for me.
So, apart from my dislike for the entire CCG model, how is Artifact? Pretty cool, actually. It's lane based, but there are lanes within lanes, which is something I've never seen before. There are hero cards as well as "creeps" which are basically just weaker monsters that heroes can bring along with them. Heroes have a color associated with them and only creeps of that color can be summoned into the same lane as that hero, thus it pays to have heroes of different colors in each lane.
There are also spells that work like spells in just about every other CCG as well as other effects that you can play on a single lane and trigger when something happens, such as earning gold after every combat phase or dealing damage to all enemies before the turn begins.
So, it's a lot like other CCGs, but that lane thing sets it apart. Let's discuss. Basically, you're playing three separate card games at once, one in each lane. Within each of those lanes are lanes where cards are actually played. Cards without a card opposite will deal their damage to the opponent's tower. Each mega-lane has a tower and the game is won by the player who destroys two of their opponent's towers first.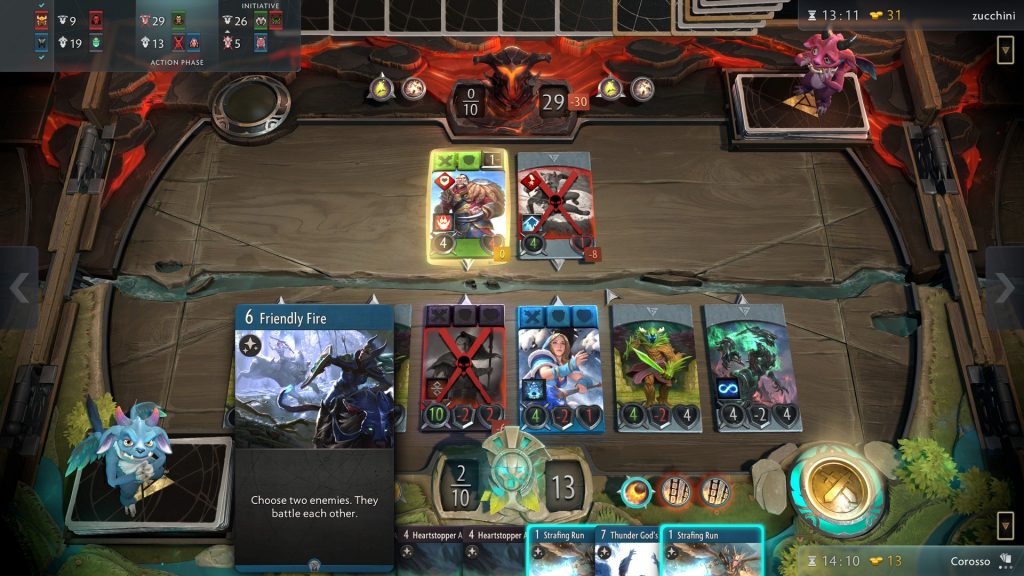 Graphically, the game is incredible. Cards are zooming and flying about and there are two cute little dragons helping along the way. Not sure if those dragons hang out in regular games or are only there for the tutorials, but I kind of liked having them about. If there's a downside, it's the same downside I have with other digital card/board games for which I don't have an intimate knowledge of the rules. There's a lot happening between hands here with cards flying about, icons everywhere, arrows pointing every-which-way, and I, honestly, wasn't sure what the hell was going on. I'm sure I'd pick it up eventually, but I have to admit I wasn't sure where my cards were coming from or what the hell was happening most of the time. I still won both tutorial games, so hooray!
I'm not writing this as a condemnation of CCGs or as a review of Artifact. I used to love playing Hearthstone, but lost interest when I couldn't keep up with the meta and all the new cards flooding in. I feel like I should love a game like this, getting some good strategic and tactical decisions out of my brain and finishing a game in minutes instead of days. As for reviewing Artifact, as I said I've only dabbled against a horrifically weak (on purpose) AI and that's it. I haven't looked at how you earn cards or what the monetization is like (you have to pay $20 just to download the game, so I'm hoping new cards are cheap…)
So, why am I writing this? Because I assume some of you are playing Artifact as well. I'd love to hear what you think. What are its pros and cons? Also, if we can get a (very)  casual SP group going where I don't have to play total strangers, maybe I'd give it a chance. You never know. Let's talk it up in the comments and see where this goes. I know the lack of a mobile version is a detriment to getting regular matches going around here, but an iOS/Android version is slated for early 2019. I can wait if need be.